Columbia, Tennessee
The new organ for First Presbyterian Church is a mechanical action instrument designed and built entirely in the B. Rule shop for the unique requirements, both physically and musically, of this particular church. Architecturally, the case is proportioned according to the Golden Section, and is stylistically detailed to harmonize with the Greek Revival sanctuary. The organ uses some old components, including two ranks from the original 1916 Felgemaker.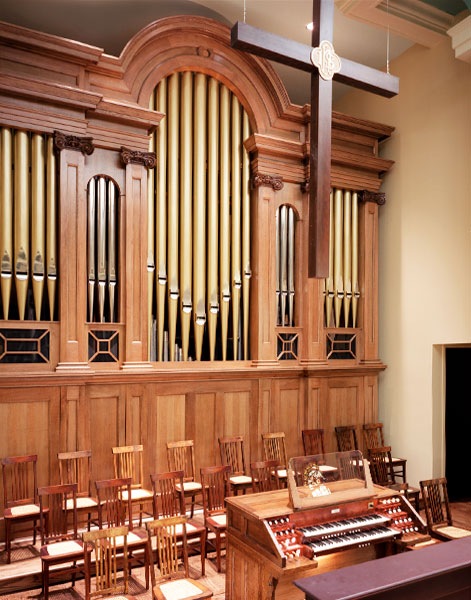 Eight ranks of 19th century pipework were obtained from the Organ Clearing House, which also provided the elegant console shell and the large and spacious Great slider chest. Several other 19th century ranks were provided by B. Rule, and the new pipework was made by Paul Byron of York, Maine.
The organ is comprised of 27 stops (32 ranks) over two manuals and pedal. To meet modern performance requirements, the stops are controlled electrically, making possible an eight level memory combination action system which can recall any registration at the touch of a piston.
The case is of solid riftsawn red oak, the internal framing is of poplar and red oak, and many of the wooden trackers (of which there are over 2,000 lineal feet) are made of white pine which B. Rule salvaged from the swell box panels of an 1899 organ by E.L. Holbrook (see Faith Lutheran Church).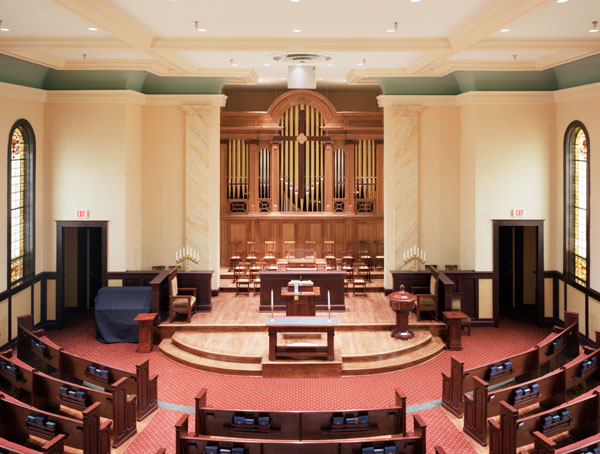 Great

Swell

8
Open Diapason
8
Stopped Diapason
16
Bourdon
8
Celeste
8
Chimney Flute
8
Violin Diapason
8
Dulciana
4
Harmonic Flute (wood)
4
Octave
4
Principal
4
Nachthorn
2
Fifteenth
2 2/3
Twelfth
Mixture III
2
Fifteenth
16
Clarinet
1 3/5
Tierce
8
Oboe
Mixture IV
 Tremolo
8
Trumpet

Pedal

16
Double Open Diapason
61/30
electric stop action, mechanical key action, SSL Combination action w/ Harris drawknobs, 8 levels of memory.

Accessories

      SSL 8-level Combination Action memory

     Three usual couplers

        – – –  – – –

     Compass 61/30

     Electric  stop action

     Mechanical key action

16
Trombone
16
Bourdon
8
Gedeckt
8
Principal
4
Choral Bass
16
Trombone
8
Trumpet