Knoxville, Tennessee
When this anonymous circa 1850 Empire style American chamber organ appeared in our shop, it was unplayable and copiously afflicted with loose, dangling mahogany veneer. All the veneer from the ogee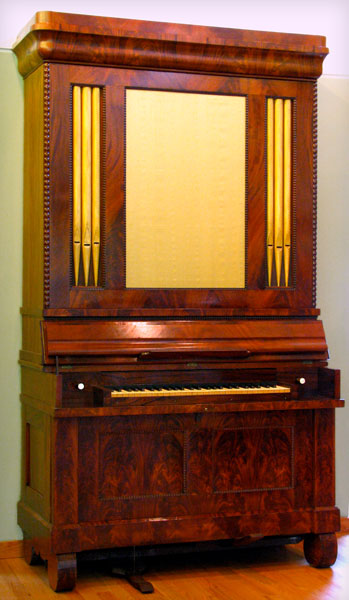 shaped fallboard was gone, and almost all the veneer on the ogee crown molding was buckled and loose from its substrate.  Many edges and corners suffered from chipped, missing veneer.
After assessing the condition, it became clear that the interior mechanism was very finely crafted of mahogany, pine and cherry, and eminently restorable. The keyboard ivory was perfect, and the keys merely needed polishing. The cabinet required extensive restoration, and after replacing all missing veneer, we decided not to subject the cabinet to the humiliation of being completely stripped of its original finish. Rather, we carefully sanded off the outer layers of crazed shellac with 400 grit sandpaper, and then re-amalgamated the finish that was left with a French polish until it began to attain its original glow. This preserved the old grain filling and first layer or two of finish. Then at the customer's request, we applied two coats of high quality varnish to make a more durable finish.  The fiery glow of Cuban mahogany burl was thus brought back to its original glory.
Since the organ was purchased for use as a continuo instrument for a local group of early music gamba players, the tuning of the instrument sparked some lively discussion. Research into compatible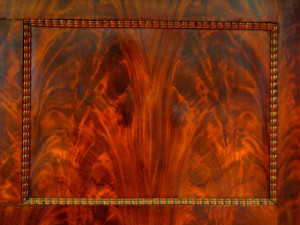 temperaments for use with viols yielded several ideas, but a scholarly article in an early music magazine convinced us to tune the organ in Erlangen comma, which dates to the 15th century and yields perfect thirds between c and e, and d and f#. This proved to be quite sublime with the viols, and so the temperament stayed.
The 8-foot stop is a Dulciana with large wooden stopped basses, and the 4-foot stop is a small Principal.  There is no stop action knob for the Dulciana; only the Principal may be turned on and off.  The organ possesses a soft, singing tone, and is pumped easily by the single pedal on the right. Even after all these years, the sweet smell of New England white pine wafts out of the instrument when it is pumped and played.  This was a truly unique project for B. Rule & Co, a little treasure which was a great satisfaction to restore.